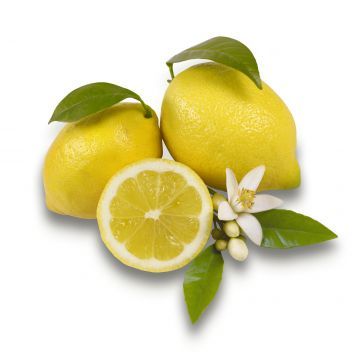 HISTORY
Theophrastus, the Greek philosopher and scientist, was the first to speak about the lemon in 310 B.C. in his famous work on botany entitled "Enquiry into plants". The Lemon originates from the Orient, is an ancient hybrid, and probably derives from the pomelo and from the citron. In the ancient past, it was considered a sort of panacea for all ills. Introduced into Europe by the Ancient Romans, it is cultivated in Italy, primarily in Sicily, where it arrives thanks to the agricultural revolution produced by the Arabs as early as the 9th century.
News
The Citrus limon is part of the rutaceae family. The lemon tree can reach up to six metres in height. The lemon consists of a yellow more or less rough rind, rich in essential oil, separated from the pulp by a white spongy layer called albedo; the pulp is divided into eight to ten segments, bitter and juicy, and contains semi-hard whitish seeds. The most cultivated varieties include:
- Femminello: it accounts for 75% of sicilian production and produces three harvests a year. It blooms several times a year, bearing fruits with different characteristics. The main blooming period is in spring, which is responsible for producing winter lemons. In botany, the characteristic fruit of the citrus is called hesperidium. Harvest periods: Primofiore/winter from November to April, Bianchetto / Spring from April to June, Verdello/Summer from June to September.
- Monachello: the juice is less acidic and the content is low. It is used in cooking. The tree is more resistant to the disease called mal secco(meaning dry disease) and accounts for 10% of production
The other varieties of minor production include Femminello comune (oval), Santa Teresa and Lunario