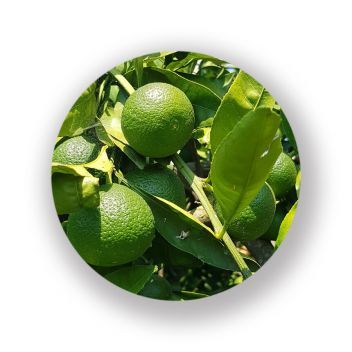 HISTORY
The Mandarin, originating in China, is cultivated primarily in areas where the temperature ranges between 15° and 30°.
In 1805, the first specimens were imported into England, and reached Malta and Sicily in 1810 where it spread thanks to the pedoclimatic conditions in the Mediterranean. In 1840, mandarin plantations were already established around the magnificent plain on which the city of Palermo lies, the much-celebrated Conca d'Oro.
NEWS
The green mandarin is harvested between late September and early October using the agronomic thinning technique that has been used in Sicily for over a century, to improve production quality.
The process usually starts at the end of September, when the fruits, which are still green, are picked. The thinning operation is also carried out on the buds. This technique is used for fruit crops in order to improve growth and quality and to ensure the remaining fruits fully ripen.
The green mandarin peel cold pressing process extracts a unique and exclusive oil, with high organoleptic characteristics and a chemical and aromatic profile of rare intensity.
Mainly used for the production of fragrances and industrial flavourings.